The Meade County Chamber of Commerce offers multiple educational opportunities for our members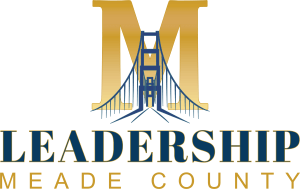 This professional development program consists of nine sessions from September to May. Leadership Meade develops a curriculum around business and industry in Meade County. at the same time, helping our student employees develop their skills of management and talent development. Leadership Meade's ultimate goal is to help create community partners who will be tomorrow's leaders.
The classes are nine, one-day sessions, starting with one overnight retreat in September. Participants have to commit to being away from the office one day per month during the duration of the class. The entire cost of this program is $550 with travel and meals included. If you or someone from your business is interested in applying, you can download our application
HERE
 or sign up directly 
HERE
. If you would like more information you can download our program overview 
HERE
. For additional information please call 270-422-3626 or email 
director@meadekychamber.org
. Tuition assistance is available.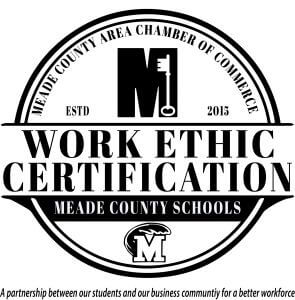 The Meade County Chamber of Commerce Work Ethic Certification program is a partnership between our students and our business community to build a better workforce of tomorrow.
The conversation for a Work Ethic Diploma was brought to Meade County High School and the Meade County Area Chamber of Commerce in 2015 as a way to bring the business community closer to students. It was viewed as a way to teach the professional skills necessary to be successful employees upon graduation. With the input of area educators, business leaders, and post-secondary representatives, standards were developed to implement a Work Ethic Certification program. The program saw success until the business climate changed in 2020. It was then determined that the workforce needs more innovation and the programming needed to be updated.
The new Work Ethic program focuses on two items. 1. Producing the best student candidates for area employers and 2. our business community pledging to #hireworkethic!
For our business community, the Work Ethic Program is designed to:
Supply Meade County and regional employers with skilled workers
Be a filter for hiring and selecting candidates that have demonstrated knowledge, skills, abilities, and commitment to work.
Reinforce the value of positive, professional, and ethical employment skills geared toward successful employment
Recognize a common, identifiable, metric of work habits
For our students, Meade County High School's Work Ethic Diploma certification standards require 4 out of the 5:
Attendance
Office Referrals
Pathway Teacher/Counselor recommendation
School Involvement and/or Community Service
College Ready Benchmarks or Career Ready Benchmarks
To be a Work Ethic employer your company would have to participate by following these guidelines:
Displaying the We Hire Work Ethic decal
Agree that if a student has a Work Ethic Diploma listed in their resume or application, they are granted an interview as long as they meet job qualifications for the open position.
Agree to participate in mock interviews for students to complete their diploma requirements. (these can be done in person or via Zoom)
Get priority placement for any Job Fair/Career Day field trips.
Provide the Meade County Area Chamber of Commerce with hiring statistics for the number of Work Ethic students hired.
Businesses will be recognized at MCHS' breakfast for graduating seniors.
Businesses will be listed on Meade County Area Chamber of Commerce's website regarding Work Ethic employers/endorsing organizations.
Work Ethic students will begin the program in their Junior year and start becoming Work Ethic Ready. They will continue this program until their senior year to achieve their Work Ethic Certification and Work Ethic Diploma. The Work Ethic program also comes with:
Priority Co-Op Placement
Possible Job Interviews
Professional Skills Development
Work-Based Learning during school
Work-Based Learning after school
Ability to apply for the annual Meade County Area Chamber of Commerce $1,000 scholarship
To become a Work Ethic employer please contact Annie Hamilton at director@meadekychamber.org and if you are a student interested in becoming Work Ethic certified please contact Nick Sutherland at nicholas.sutherland@meade.kyschools.us or Kyle Malloy at kyle.malloy@meade.kyschools.us.
Career Advancement Scholarships
Do you want to further your career? Do you live in Meade County? Then apply for the Chamber's $1,000 Career Advancement Scholarship.
Download the form below and return it to the Chamber at least 2 weeks prior to the start of class.
The Meade County Chamber of Commerce is invested in the advancement of all of our members. In their business growth and also in their professional growth. That is why we offer a Lunch and Learn series. These are 2-hour classes that focus on professional development, business management, and marketing.
We provide them from 11 am - 1 pm and provide lunch so that employees can get a -bite-sized" education while not being away from the office for too long.
Lunch and Learns are announced via our newsletter and are at no cost to our members.