How does the Chamber support Workforce Development?
There are several programs that the Meade County Chamber either provides, is a partner, or supports that benefit workforce development.
KY Work Ready Certification
Meade County is one of the only 43 certified Work Ready communities in the state. Kentucky's Work Ready Communities program – the most rigorous workforce certification program in the nation – is inspiring meaningful dialogue and action by community, education, government, and business leaders across the Commonwealth. Holding a Work Ready certification from the Kentucky Department of Economic Development shows that Meade County is committed to educating and developing a strong workforce.
KY Talent Pipeline Management
In close partnership with the Kentucky Cabinet for Education and Workforce Development, Kentucky was selected as one of the three states in the nation to pilot a statewide implementation of the U.S. Chamber of Commerce Foundation's program, Talent Pipeline Management (TPM)®. TPM is an employer-led and demand-driven approach for businesses to create and manage talent 'supply chains' by projecting talent needs and aligning those with education and workforce development systems. Through this partnership, the Kentucky Chamber Workforce Center was called upon to utilize the TPM tool to engage employers in the TPM process to build a stronger workforce aligned with the needs of Kentucky's key economic sectors.
Meade County Chamber acts as a regional representative for this program
Provide personalized talent solutions to ensure Meade County residents and beyond are trained, developed, and upskilled into in-demand career pathways
Improve collaboration with education, government, and workforce partners by utilizing our collaborative's real-time data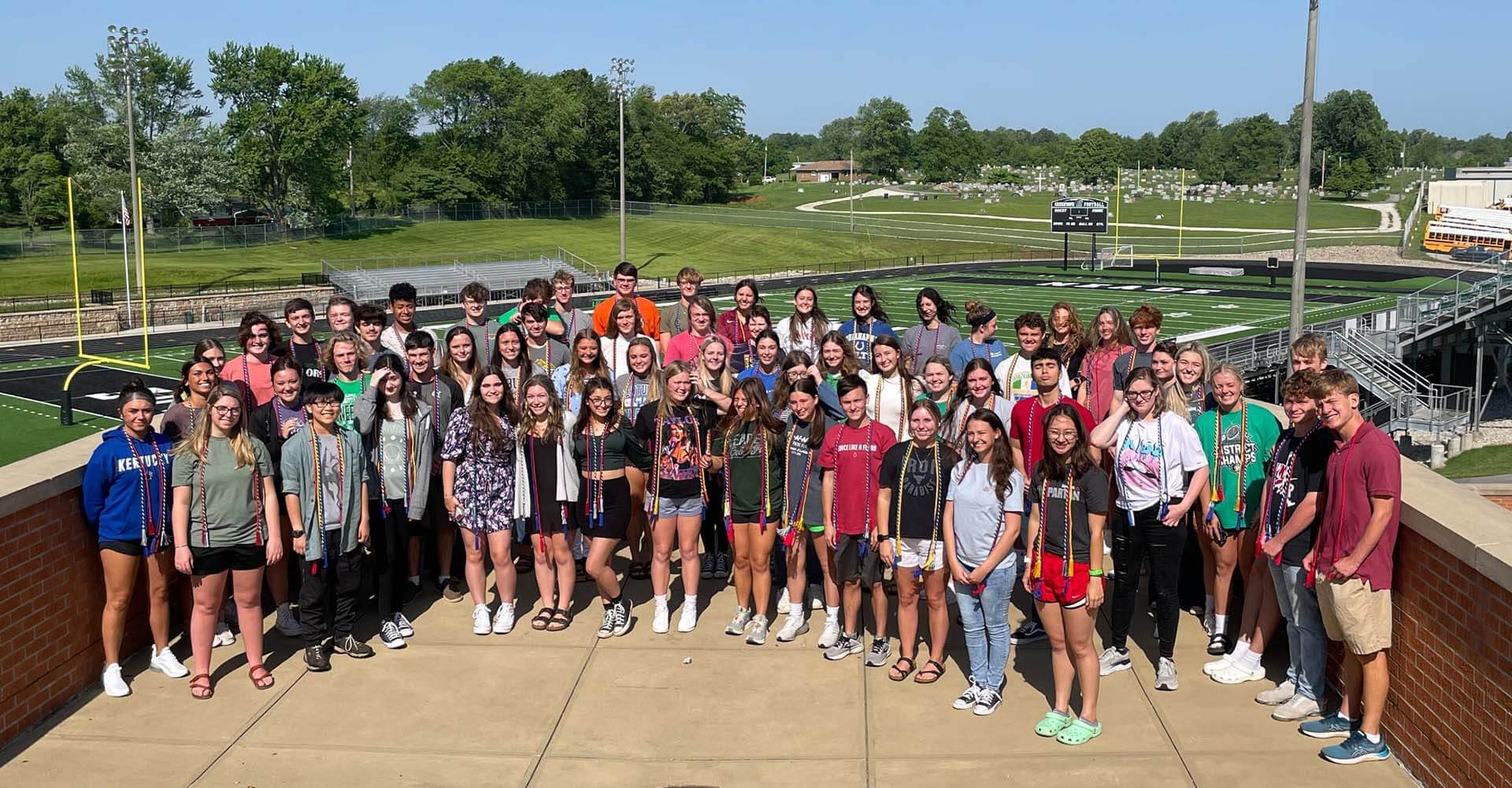 The Meade County Chamber of Commerce works directly with Meade County High School and Meade County College and Career Center to add support to their already established pathway program.
Since 2014, graduates from Meade County High School pick a career pathway to pursue in conjunction with their general education. This allows for specialized education and career preparedness after graduation. Upon graduation not only do students receive a diploma, but also a certification in their pathway that will allow them to enter the workforce directly after graduation. The Work Ethic program helps students learn employment skills to be a companion for their pathway certifications.
The Work Ready Certification program is for students in their junior and senior years. It has a series of requirements that students have to fulfill along with a recommendation from their pathway instructor.
The other aspect of this program is our area's Work Ethic employers. They sign on to "Hire Work Ethic". This requirement is that they have to provide a Work Ethic graduate with an interview for any open position that they qualify for.
In 2022, a Job Fair component was added to the program. During their final semester, Work Ethic students dressed, provided a resume, and had a sit-down interview with area employers. To receive their certification students had to complete this interview component. These were also real employers seeking these students post-graduation. After the Work Ethic students completed their interviews, the job fair was opened to the entire senior class and connected them directly with career prospects after graduation.
Our Work Ethic Certification program strengthens the area's economy by increasing the employability of students post-graduation and connecting Meade County's employers directly with a potential workforce.
A potential project that the Meade County Chamber of Commerce would like to expand into in the future is Meade County Works. Below is the treatment for that potential program.
The United States currently is looking at a shortage of qualified workers. Therefore it is key to look at training programs to retrain or develop displaced or long-term unemployed workers. With record unemployment numbers large industry is looking to either pull workers looking for better opportunities or give second chances to motivated job seekers. This is why companion programs need to be established in conjunction with industrial development authorities.
According to the Bureau of Labor and Statistics Kentucky was the epicenter of the Great Resignation. Hitting its highest quit rate of 4.4% in August of 2021. The Kentucky Chamber of Commerce has called this a "workforce crisis" and is finding it difficult to reestablish the labor market. This also means a growth opportunity to provide career accelerator programs for those employees that were fed up and wanted to move their careers in a new direction or closer to home.
Meade County Area Chamber of Commerce's Meade County Works program will work in facilitating that gap between workers and the incoming industry. Not only will the Meade County Area Chamber of Commerce use its existing Work Ready Certification to help develop soft skills in potential employees, but it will also provide career counselors to support individuals in the program. These two items will help establish concrete steps to building better employees and be able to explore why they quit before and what they require in employment to prevent that in the future.
Established Employment in Meade and commuters
Currently, Meade County is classified as a commuter community, with over 80% of its workforce traveling for work each day. This is creating a skills gap with its best employees leaving the area for work. Part of Meade Count Works will also be to court and retain commuting talent for the newly acquired industries in the area. The program can provide hiring fairs, onsite interviews, training spaces, and incubator spaces. Meade County Works can also work directly with area employers to work with candidates that do not quite meet the requirements of the job and provide them with additional training. This way we can take work that might have been rejected in the past and decide to stop looking for work and get them into a long-term career placement. Some of Meade County's largest labor sectors are retail and food service. They are first with 634 retail workers and fourth with 499 food service workers. Foodservice and retail workers are great talent pools to bring into Meade County Works and provide them with industrial career training or career retraining options.
With Meade County being a rural community, opportunity does not always exist locally. Having a companion program for our Industrial Development Authority would be another step in facilitating direct high-wage job growth inside a rural community.
Meade County High School Talent Pipeline
Meade County Area Chamber of Commerce already has an established talent pipeline between Meade County High School and area employers. Each year as part of the Work Ethic Certification program, pathway-specific employers will interview high school juniors and seniors to facilitate gaps that those graduates could possibly fill. The juniors can also apply for work-study or internship opportunities in the future. Way to Work and Industrial Development would allow students to begin entry-level careers with high wage potential. Creating deeper middle-class potential and decreasing the poverty level employment for younger workers.
Project Framework
The framework for this program will rely on Goodwill's Way to Work Program, the Kentucky Career Center, KY Talent Pipeline Management, Meade County Work Ethic Certification program, and Meade County Area Chamber of Commerce's Adult Learning Scholarship Program. We would also like to bring on Kentucky's Certified Apprenticeship Program and Merit America to find ways of getting high-skilled certifications to participants in Meade County Works. KY Certified Apprenticeship Program and Merit America would specifically be for very in-demand skills gaps like IT, machinist, tool and die, robot techs, and more. If a participant wanted to continue their learning so that they can be a highly placeable candidate we would refer them to the Work Ready Kentucky Program for up to 60 credit hours tuition-free, but also keep them in the program. This would allow for Meade County Works to give them direct career placement after graduation. Meade County Works would be crucial to building assets in a rural community that will not only support local industrial development but regional economies and beyond.