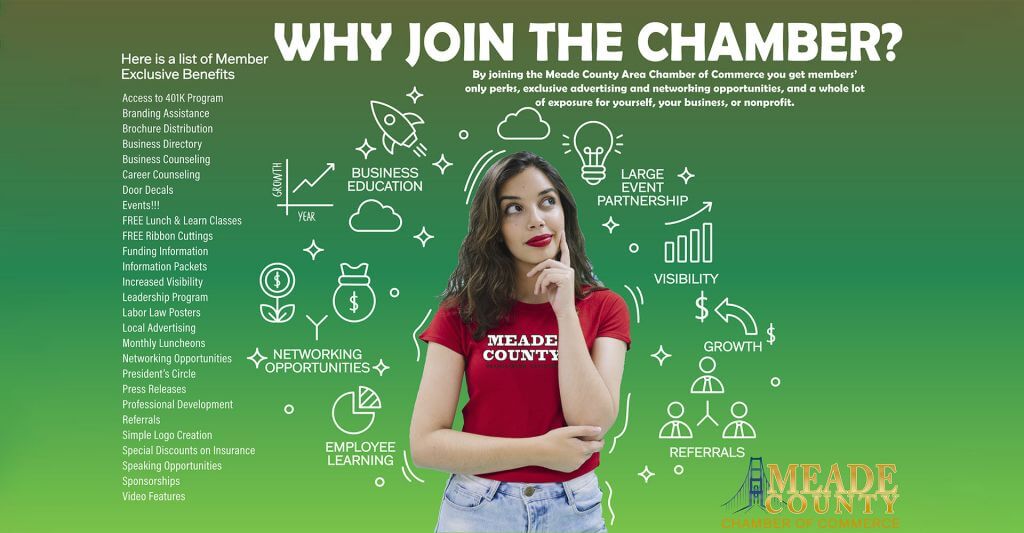 Presidents Circle – Annual Membership, Quarterly President's Circle only meetings, Chamber Two-Person Golf Scramble Hole Sponsorship, Logos on 'President's Circle' banner displayed at chamber events including but not limited to: Women in Business Luncheon, Community Partnership Dinner, Monthly Luncheons, Newsletter updates, One-year of free lunch tickets for two, Unmatched networking opportunities and publicity and more!
Discounts - Our member-exclusive discounts are vast. They include Small Group Health Coverage, Individual Health Coverage, Workers' Compensation Insurance, Waste and Recycling Services, Compensation Data Solutions, Job Postings and Resource Hub, Office Supplies at Staples, Freight and Small Package Shipping with UPS, Labor Law Posters, Certificates of Origin of Services, Member-to-Member Deals/Discounts.
Referral Service — Through SEO our Chamber's Google Analytics will always list us first when using the world's most popular search engine. This allows us to be the most commonly called number when people are looking for services in Meade County!
Business Directory – Through that same SEO our website will continue to appear when doing general searches about Meade County, KY. Being listed in our member's only directory allows your business to have more presence on the internet and be found more often online.
Business Information – Our staff offers new business services such as "how to start a business from scratch" and "how to expand my business into a retail location". We also maintain the county's Work Ready Certification and rely on always knowing the up-to-date demographics of Meade County.
Membership Luncheons – Luncheons for members are held on the third Thursday of each month and feature a program on a topic of business and/or community interest. Members are encouraged to bring guests and people interested in joining the Chamber of Commerce. The cost is $12 per person.
Celebrations – We help organize ribbon-cuttings and groundbreakings to recognize important milestones for businesses and organizations, including writing and distributing news releases and supplying ribbon and scissors for ribbon-cuttings and shovels for groundbreakings. Please give us a call and see how we can celebrate your business.
Online Newsletter – We send out a weekly email newsletter to keep our subscribers up-to-date with member information. If you have a topic or event that you would like listed, please let us know.
Economic Development – We regularly provide information to companies seeking information about Meade County, to local businesses seeking information that may lead to their growth and expansion, and to people who want information about how to start a business.
Professional Development – The Chamber of Commerce has access to information about a wide variety of development and continuing-education programs organized by such agencies as the Small Business Development Center, Meade County Education Center, Elizabethtown Community & Technical College, and others. Our 9-month Leadership Meade County Classes are held every even year.
Information Packets – Newcomer/relocation packets are available for members to distribute to potential and new employees and residents.